…it's what you're getting this weekend. Maybe not a perfect fit but it's still football and that alone makes it better than most other things in life. We'll save the law talk for the week days.
My BC Eagles are bowl eligible again, notching a sixth win (four straight after a dreadful 2-5 start) with one game left to play. This was not a fun season to watch and even as the team improved (with scheduling help from Wake, Duke and Virginia), it was still not the most exciting. Things are finally looking up as some young players–notably defensive end Max Holloway, quarterback Chase Rettig, tight end Chris Pantale, receiver Bobby Swigert, safety Jim Noel and kicker Nate Freese (we now have a kicker, not just an extra-point specialist)–stepped up and really show a promising future. Although bare bowl eligibility is football's version of the sub-NIT basketball tournaments, BC locked in a .500 conference record. Despite being one of our worst seasons in more than a decade and having a stretch of games where the team looked like it would go 2-10, it says a lot about the character of the team that, where many teams would have mailed it in and fallen apart, they turned things around and won games.
With a 59-0 win over Fresno State on Friday, Boise State maintained its blue turf winning streak. Boise State last lost in the 2005 Humanitarian Bowl to none other than BC. The Broncos go on the road this Friday night to play a ranked Nevada team that is really the only remaining obstacle in their run for a BCS bowl. This week's game will be Boise's third straight Friday night game. Like the last two Boise State opponents, Fresno State and Idaho, Nevada last played on Saturday, effectively giving Boise State one more day of rest for two straight weeks. Boise State waxed Fresno so badly that it probably didn't matter but it is an advantage worth noting. Here's to Nevada pulling an East Dillon upset of the boys on blue.
Two of the storylines in college football this week revolved around the same theme: playing football in a baseball stadium. Northwestern and Illinois flashed back to the team's 1923 meeting when the teams played each other at Wrigley. Army and Notre Dame played at Yankee Stadium III, flashing back to when the teams played their rivalry game at Yankee Stadium I. Both illustrated the folly of playing a sport in a venue designed for another. Wrigley's alignment subjected the Big Ten to require offenses to only go toward one goal. The Bears played in Wrigley for over fifty years and used a North-South layout compared to the 2010 East-West layout.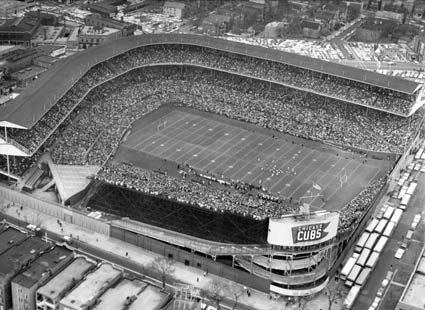 After some renovations, the North-South layout led to the first-base dugout to be in part of the south endzone. When I saw that, I immediately thought: Three-point conversion.
The Bronx version left many seats at funny angles and some unable to see the outfield endzone.

Playing college games in these two ballparks when better stadia were available in each city (Northwestern and Soldiers Field in Chicago and New Meadowlands in NY/NJ, although NFL obligations may have excluded the pro stadia) is really just gimmicky and novelty. At least with Army-Notre Dame, Army benefited by playing the game close to home and both schools benefited by playing in NY (even if it was the South Bronx). Still, it probably would be fun to do once in a while. The entire game experience changes. Wrigleyville gives fans plenty of bar and restaurant options before and after the game. The South Bronx lets you take the Subway to the game and for one day brings major college football to New York City.
When it comes to stadium gimmicks, this one has Fenway written all over it. I would be shocked if the Red Sox ownership, who brought a soccer match between Celtic F.C. and Sporting Lisbon last summer, haven't thought of a throwback to the days of the 1960s Boston Patriots and 1940s BC. Especially since the Fenway Sports Group was working with BC. I bet Fenway asked BC and BC refused. Alumni Stadium provides a great home-field advantage (which is why it would actually hurt us to play a big game in Gillette) and I believe a college campus is the true place for college football games (really, students should be the last people to have to drive to a game) so I would not support playing meaningful games anywhere but Alumni. As for weak games like our annual FCS opponent, I'm up for Fenway, BC's old home field. Those games don't draw well and shouldn't be exciting anyway so Fenway would actually add something to them. It's not far so students would be able to go and the park can serve beer. If we could schedule Holy Cross and count the game to our bowl eligibility, then have a throwback to 1942. Make it ultimate retro day. At least then the "Sweet Caroline" late in the game would be tolerable.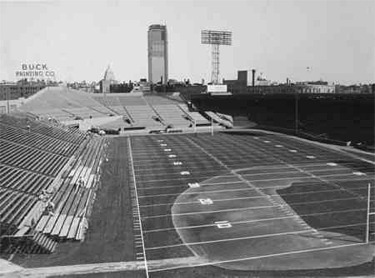 Chris DeMatteo is an attorney and the sole member of DeMatteo Legal Solutions at 2911 Dixwell Ave., Ste. B10, Hamden, CT. Call (203) 691-6594 or visit the office website. Attorney DeMatteo represents clients in criminal, juvenile and civil matters in all of Connecticut's courts.